G'DAY

and welcome to Biker Bits
Motorcycle Adventures Australia.

This site is all about having fun and adventures with motorcycles in Australia. Nothing to serious here just a bit of fun and some good information about motorcycle riding in Australia.

YouTube videos is what I mostly do now!

It's all about Motorcycles, Camping & all things Man Cave. Remember: Keep On Riding and if you ain't
riding... Just Keep On Keep'n On!



YouTube Video Playlists:




A BIG THANK YOU to the
Keep On Riding CREW!
These are the guys that encourage me and enable me to continue plugging away and producing the videos on the Biker Bits YouTube Channel.

Without their Help & Support the Channel would not be what it is today.




Wanna JOIN the Keep On Riding CREW... here are some of the PERKS! Our Patreon Page





ADVENTURE AUSTRALIA - DR650 Style!





Motorcycle Trips
& Adventure Rides

Mark & Ken's
Simpson Desert RAMBLE
Crossing the Simpson Desert by way of the
French Line on 2 Suzuki DR650's Click Here!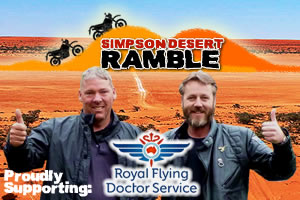 This trip was back in September 2013


Australia is a bloody big country and you just don't realise how vast it is until you get out there and see it.




Traveling Australia by Motorcycle



Let me start by saying Australia is a huge country and it has everything to offer the motorcycle traveler.

We have Coast Lines to die for, Snow covered Mountain Ranges and Deserts that go on forever.

We have relaxing country roads that can take you to the bustling city centres or lead you into the great Australian outback.



The big question is what do you want to experience?

...read on


---
| | | |
| --- | --- | --- |
| Motorcycle Gear and Accessories | | |
---

Check out our motorcycle videos we have created. There are some of our adventure rides and a few of my informative motorcycle accessory videos.

Hope you find them interesting!
See Here!
---
| | | |
| --- | --- | --- |
| Creative Australian Motorcycle Banners | | |